This project's Medical system is a pioneering bedside Urine Output (UO) Measuring Device for hospitalized patients. Offering a breakthrough solution for robust, accurate and automatic UO measurement- with lower cost, less workload and improved patient safety.
Market Background
Critical care units are equipped with commercial monitoring devices capable of sensing patients' physiological parameters and supervising the achievement of the established therapeutic goals. This avoids human errors in this task and considerably decreases the workload of the health-care staff. However, at present there still is a very relevant physiological parameter that is measured and supervised manually by the critical care units' health-care staff: urine output. And this project is bringing a breakthrough solution for UO automatic measurement.
Project Introduction
Urine Output is the early indication for critical alert to major internal, hidden problems. 30% Of ICU patients will develop Acute Kidney Injury, X3 mortality rate, and 3.5 days Increased length of hospital stay, X4 likelihood of hospital readmission. Nurse manually checks urine levels for each patient, each hour; 8% of ICU nurse time is dedicated to measuring and calculating UO. And existing solutions for UO are Urine Meter Drainage Bag, Bard Criticore Monitor etc. They are all gravity dependant, complicated and hard to maintain. Comparing with above solutions, this project's solution has following advantages and features: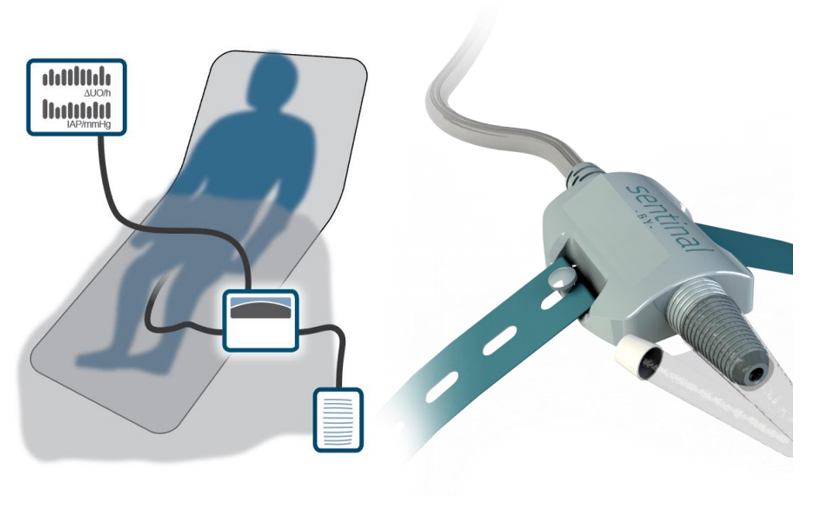 Advantages:
Safe: No backflow, no danger of "dependent loops", intrinsic detection of catheter or drain blockage, or full drain bag, reduced risk of CAUTI.
Low cost: price of disposable part expected to be lower than current disposables of automatic UO measuring tools.
Low workload: No nurse intervention required to measure or log, with improved patient safety including automatic alarms on all parameters.
Location flexible: Bag/monitor can be placed anywhere. Device can be moved with patient during non-ICU procedures, with 8 hours battery.
Rehabilitation mode: can mimic normal bladder fill/empty cycles, to reduce recuperation time after long catheter use.
IAP measurement mode: automatic, hands free, non intrusive and continuous measurement of Intra-Abdominal Pressure.
Features:
Automatically and continuously measures and reports accurate UO, with detailed display of current value, accumulated volume and rate of change.
Small, ergonomic disposable connects between standard catheter and standard urine drain, controlled by small bedside controller/monitor.
Very simple to operate. Connect and Forget, single patient device, integrates with hospitals' information systems.
Reliable and robust: Works in any ICU condition, high tolerance to patient position, environmental changes, and extreme urine properties.
Project Stage
Two provisional patent issued
First clinical trial – Q1 2019, focus on accuracy and robustness
Further studies focus on AKI prediction, mobility, fluid balance, more
Team Members
Tomer, CEO
B. Des, with 10 years in industrial design on medical & industrial devices.
Noam, CTO
M. Sc. EE with 30 years experience in medical device R&D and management.
Prof. Manu, Medical Adviser
PhD, KOL on IAP, ICU Director. He is author and co-author of more than 250 peer-reviewed articles, reviews, editorials, book chapters and even two complete books on ACS.
Project Needs
Seeking $2M, used as:
FDA+CFDA+CE
Further clinical studies
Next gen. devices
Marketing, sales