This project has developed a free, easy-to-use shipping management software that saves importers and exporters time and money while giving them full visibility over their shipments. From online quoting and automated bidding to real-time tracking and documentation management, this project simplifies their daily workflow and makes it more efficient.
Market Background
Shipping is still heavily reliant on emails, spreadsheets and phone calls - just as it was 15 years ago. It is a manual, cumbersome and non-transparent process, leading to billions of dollars of inefficiencies.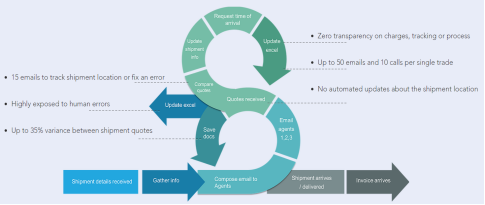 Project Introduction
This project's software was built by techies and logistics professionals, experts in international shipping. It is designed from the ground up to tackle the daily complexities importers and exporters are facing, helping them to regain hours of productivity. Clients don't need to change current workflow, switch freight forwarders,in less than 20 mins' a new client can start managing his shipments with this software and ditch his phone, email and spreadsheets for good. And the software provides the following service for its clients:
● Multimodal: Air, Ocean, Road
● Streamlined communications
● Quotes and shipments dashboard
● Pick the best quote using its automated bidding engine
● Shipment real-time tracking
● Documentation management
● Shipments management and analytics
This project has established cooperation relationship with British Export Association, Kuehne + Nagel, World First etc., and 50 different freight forwarders sent quotes via this project's software. Among them are industry leaders such as: UPS, DSV, Kuehne + Nagel. What's more, 30% of clients already manage 100% of their shipments through this software. It is proven that 10% saving on shipping costs + 2 hours of manpower saving per shipment + significantly simplified client workflow.
Business Model
Importers and exporters still use traditional financial services for trading. By integrating digital alternatives and making them seamlessly available, this project will gain recurring, high volume transactional revenue:
● Initial monthly subscription fee of ¥175 per month/per user (penetration price), plus;
● Trade Finance solutions offered at point of intent:
o international money transfer, credit and insurance solutions
o this project gains 15-20% rev share for each transaction
Team Member
Shahar, Co-Founder & CEO
An experienced entrepreneur and business leader. Be specialized in creating and developing new businesses,partnership building, leading investment rounds, finance and operations management, launch and market penetration etc.
Zack, Co-Founder & COO
Shipping Expert, with 7 years' experience in shipping and freight forwarding.
Project Need
Total capital raised: ¥2.37 M; Aiming to raise ¥3.5M
Funds allocation:
● Enhance product capabilities and expand tech team
● (i) Grow sales team (ii) establish partner network
● Reaching ¥175K-220K MRR