Background
Recent studies show associations between episodes of intraoperative hypotension and increased risk of acute kidney injury (AKI) and myocardial injury (MI) - the leading cause of 30 days postoperative mortality. However, in the majority of procedures done under anesthesia, blood pressure is monitored using a cuff, providing only intermittent readings. Hypotension episodes occurring between these readings go unknown to anesthesiologists.The current gold standard, arterial line, is used only in small percentage of the cases. Although it is continuous, it is invasive and expensive. This project's solution enables continuous blood pressure monitoring that is essential for timely identification and management of hypotension episodes, in order to minimize the risk of MI and AKI.
Project Introduction
This project is developing continuous & noninvasive hemodynamic monitoring solutions, based on its proprietary platform, which consists of a disposable sensor, BP module and an optional bedside monitor. This platform can monitor following parameters: blood pressure, mean arterial pressure, heart rate, heart rate variability, cardiac output, respiration rate,vascular resistance, pulse pressure, pulse pressure variability, stroke volume and stroke volume variability. So far, its first product is a noninvasive and continuous blood pressure monitoring device, enabling arterial line grade monitoring for extended patient populations at low cost. In addition to blood pressure values (Mean Arterial Pressure (MAP), Systolic and Diastolic), its product also provides a measure of Pulse Pressure Variability (PPV), a key indicator for perioperative goal directed fluid therapy.
Its proprietary, patent pending technology platform comprises of two main core technologies:
1. Unique PPG based optical sensor technology
2. Advanced algorithmic layer to calculate and track blood pressure
Its sensor features red and infra-red wavelengths that track blood volume inside the pulsating blood vessel and then constructing a unique signal, originating at the index finger. The result is a continuous waveform that is proportional to the arterial pressure wave.
Then it applies its proprietary algorithms, based on biomechanical modeling of the cardiovascular system to extract and track systolic and diastolic blood pressures, as well as mean arterial pressure (MAP).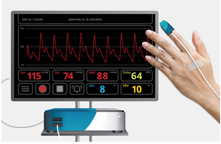 Advantages
- Noninvasive & Continuous waveform trace display
- Real time monitoring and tracking of blood pressure values(MAP, systolic and diastolic)
- Early detection and alert of condition deterioration
- Based on analytic cardiovascular model, not relying on heuristic parameters database
- Simple sensor positioning
- Affordable and reliable design
Business Strategy
Its business strategy is to forge business partnerships for product commercialization with prominent players in several vertical markets, and in different geographies. This project plans to extend its offering to additional units within the hospital and outside the hospital into outpatient and office clinics. Furthermore, its largest business expansion opportunity is to utilize NEST platform capabilities for home monitoring of post discharge and chronic patients with the goal to decrease number of admissions. By adding data analysis capabilities, it will be able to provide insights to the patient and medical team – trends, condition assessment, medication adjustment.
Team Member
Eran, Chief Executive Officer & Co-founder
Over 22 years of R&D, BD and marketing experience in executive positions. Strong, multidisciplinary technical background.
Ilan, Chief Technology Officer & Co-founder
RF and microwaves expert with over 35 years of experience. Invented more than 20 patents in the fields of RF circuits, antenna systems and design methods.
James, Regulatory & QA Advisor
45 years of experience in regulatory and quality systems. Expert in developing NIBP monitoring solutions.
Moshe, MD
Chief Medical Officer Board certified general surgeon, with vast experience in clinical and medical affairs.
Lior, Chief Operating Officer & Head of R&D
Over 30 years of experience in hands-on management of HW and SW development groups.
Asaf , VP, Business Development & Marketing
Over 17 years of experience in business development, marketing and finance roles in medical devices and pharma.
Project Need
This project aims to raise $5M. This amount will be used for commercial product development, FDA pivotal trial, submission and approval of the product.