Market Research
In recent years, the global shipment of wearable devices has reached 310 million units, with an increase of 16.7% over the previous period. The market is huge. And in 2017, China's smart wearable device industry produced about 58.8 million units, with an increase of 32.43% from 44.4 million units in 2016. In 2017, China's wearable device market reached 26.42 billion RMB.
Project Introduction
This Project's patented technology is based on reflective photoplethysmography (PPG). By using several LED sources, several wavelengths, and together with its in-house algorithms, the PPG signal is received free of background noise. This allowed this project a dramatic breakthrough in the manner the project detects, measures and records the different vital signs.Though it currently have two configurations, a wrist watch and a patch, Biobeat's sensor can be adapted to any type of measurement and lifestyle configuration, such as bracelets, wrist watches, skin patches, ear plugs and more, and can broadcast through available communication technologies to information and response systems anywhere.Vital signs recorded using its sensors include: Continuous Blood Pressure, Mean Arterial Pressure, Pulse Rate, Respiratory Rate, Blood Saturation, Stroke Volume,
Cardiac output, Cardiac Index, Heart Rate Variability, Pulse Pressure, Systemtic Vascular Resistance, One Lead ECG (*Patch Only), Sweat, Movement, Skin Temperature, Sleep Lab, Calorie and Time.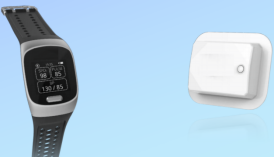 Its APP
Its simple-to-use App allows real-time user interface, through which the users can follow their vital signs, interact and add important data such as their medications, they can mark the time in which they took their medication, etc. The data could be shared with the physician, transmitted to the hospital, and even shared with a close family member, as the user will choose.
The data is saved in the project's cloud, which stands the current regulatory demands in the U.S. and Europe (HIPAA and GDPR). Most importantly, as the data is fully recorded, it allows the care provider to look at the trends of all vitals, enabling ideal adjustment of the medical treatment, as well as decision support regarding the individuals' medical condition.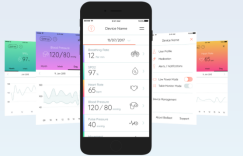 Management System(Multi-patients)
As part of its service it can provide tailored working stations, enabling continuous monitoring of multiple patients at the same time. Basically, all in-patients of a given hospital could be continuously monitored using its system, eliminating the need to record vital signs by medical personnel during their work. There is no limit as to how many individuals could be simultaneously monitored. The data as well as the trends could be shown on the screen in the working/nurse station, and for each individual, alarm limits could be set. The system can work with both our wrist watches and patches.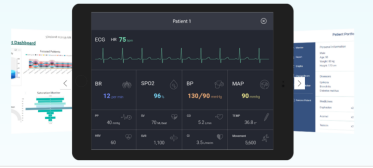 Project Stage
Tested in various clinical studies with more than 2000 patients and healthy people ages 7 – 98. It has been proven that 100% safe and strong correlation to devices in practice. This project products has been approved by Israeli Ministry of Health and Europe CE, and has submitted FDA application. It's products has been released and customers covering Ministry of Health, and Israeli famous medical center etc.
Project Needs
Seeking: 15M $ for market expansion, production ramp up and regulatory approvals.