This project is an IRM SaaS company, provides technology-enabled services helping enterprises handle their Influencer Relationship Management(IRM). This project can increase customers brand Share of Voice and grow sales conversion by provide customer with unique 360° insights about their Influencers reach, impact and relevance to branding and lead generation efforts.
Market Background
By 2018, the number of worldwide social media users is expected to reach about 2.5 billion people. With so many consumers using social media every day, this presents a great opportunity for small businesses who want to reach their online audience. And according to statistics, consumers will be more receptive to messages when marketing through social media. What's more, 81% of buying decision İs based on friends.
Project Introduction
Established in June 2014,and this project is operating globally now. Its proprietary enterprise IRM Software utilizing and monetizing various influencer marketing areas to help enterprises grow sales conversion. Its customers, from small scale to large, are spread across 4 continents, including world famous enterprises Mercedes-Benz, Audi,Volkswagen, Unilever, P&G, L'Oreal, MAC, Coca-Cola, Nestle, Sony, Intel, Microsoft, Lenovo, HuaWei, Ebay, Nike, Levis and MasterCard etc. According feedback from customers, a consumer can be an influencer who can bring at most 48 new influencers for enterprises.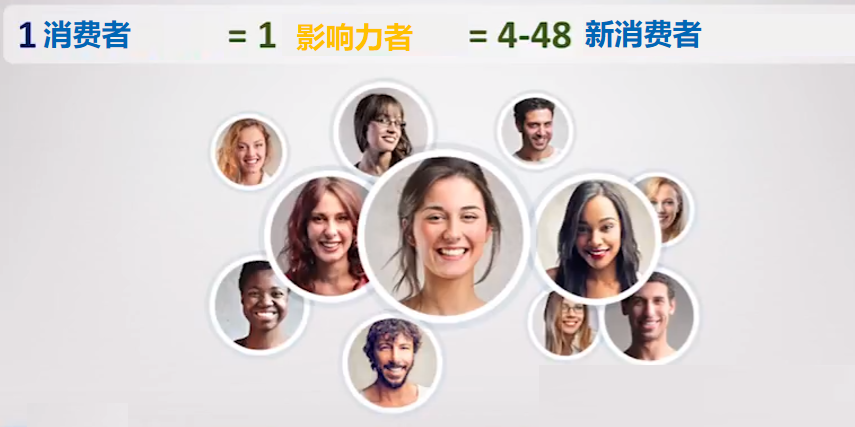 This project provides following service modules for its customer:
IRM MODULE
This module enables enterprises to turn their consumers into influencing ambassadors, and incentivize them for the value they gnerate through digital word-of-mouth methods, via 4 different touch points with their consumers.
INFLUENCER MARKETING PLATFORM
Invite enterprises' known customers and influencers in the market to become enterprises' brand ambassadors. Then, propose them to share and create content, and to be rewarded against the measured value they generate.
SOCIAL CONTENT DISCOVERY
'Share&Earn' plug-in for e-Commerce, publisher, enterprise websites, newsletters and apps will turn enterprises' occasional site visitor into an Influencer, who will better engage consumers and move them into action.
SOCIAL ENTERPRISE ADVOCACY
Leverage your un-tapped employee's and eco-system's reach through their social channels followers to promote your corporate communications, and reward them against their performance.
Offline to Online
Turn offline customers to online digital influencers and vice versa through incentivised social sharing techniques that will appear on physical assets like stores, packages, products, packages, bags etc. offered by enterprises.
Data Management Platform
Collecting, integrating and managing large sets of structured and unstructured data from separate sources related to various enterprise needs in relation to IRM.
Market Size
Digital advertising, marketing software, social media marketing, enterprises Saas etc. are all related with IRM market. So it is estimated that by 2020, market size will reach over $10bn. And mature brands, about 78% tend to invest more in technology based marketing. Now, Serviced customers covers 16 Countries of 4 continents, and has conducted over 3000 Campaigns through Social Channels Integration, like Instagram, WhatsApp, Facebook,Twitter, WeChat, Weibo, in 14 languages.

Team Member
Shlomi,Founder, Head Business Innovation
Holds PEVC executive education from Harvard University. Actively invests and develops companies in various stages of maturity in various industries focusing initially on New Media, Internet, Chemicals, Telecommunications and Energy.
Fevzi,Head of Development
Senior developer with more than 15 years of software development experience. Out of which 12 years were dedicated to Microsoft technologies.
Project Need
Looking for strategic partners and investments.