Market Background
IOT networks are quickly becoming a reality, as more IOT networks are deployed attackers are becoming more creative in how they reach corporate resources via endpoint devices. Conventical threat mitigation variants, which protect your end users in corporate networks such as traditional antivirus and firewalls are not available for IOT devices. This leaves IOT devices vulnerable to external threats, with businesses unable to detect and block these threats before they can infiltrate and compromise an organization's backend systems, driving the need for a specific, tailored solution, which targets the unique composition and threats of these emerging IOT networks.
Project Introduction
This project's CGS & SDR end to end solution is a one stop shop for creating highly secure IOT networks. The solution has been built from the ground up with security as the main focus. Our strategy for securing IOT networks is based on a multitier approach which looks at all network intrusion points, this starts from the single sim and the cellular network all the way to layer 7 protocols.
Features
- Network Slicing
The project's solution to network slicing is called Closed Gardens. Closed Gardens can be customized via API or management interface to strictly meet the needs of the customer, this reduces the attack surface and makes it harder for potential attackers to infiltrate IOT devices that are using the Closed Garden instance.
- Integrated Threat Protection
The CGS solution includes an integrated IDS solution which tracks potential threats, malware, C&C (command and control traffic) and raises events that can be viewed using its Management Interface (BMI) or can be sent to third party SIEM providers.
- Event Monitoring
The CGS tracks network usage and generates network events which can be visualized using our web-based management interfaces or exported to customer systems for additional processing.
- Policy Control
The policy controller component allows the customer to create policies that control how, when and where the service is accessed and used.
- Online Usage Control
Allows the customer to configure flexible allowances based on customer requirements. Once the allowance has been exceeded the service is blocked. The feature helps control the costs of IOT network deployments.
Core Advantages
Core advantages comparing with existing solutions: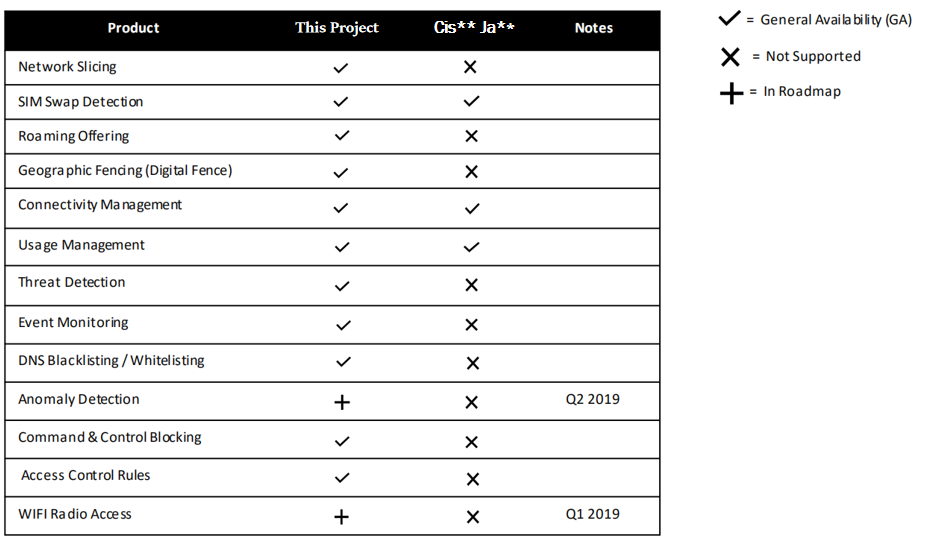 Team Member
BEN-ELIEZER , CEO
Executive specializing in IOT and data analytics for tier-1 operators, including Cisco, Ericcson and Cellcom 18+ years of mobile and cellular IT/Telecom experience.
DENIS, CIO
20 years' experience in datacom and telecom industries. Former systems engineer with deep involvement in design, implementation and integration of diverse platforms, ranging from mobile packet backbone networks to mobile services enablers.
HAMO, CTO
Executive specializing in Telecom and Datacom, since 1989 working in Design/ Engineering of Cellular network Telephony/Data and VAS.
Project Need
This project aims to built a JV relationship with partners at Asia, attack the IOT security market.