This project has developed an innovative software which allows for an effective and accurate psychological interpretation of children's drawings utilizing algorithms and advanced AI technology alongside extensive psychological and academic research. And it will alert a designated adult if abnormal behavior is detected.
Market Background
Many children around the world suffer developmental or emotional issues and sometimes, parents, practitioners, medical personnel fail to pick up on important signs. Children from the age of 4 and upwards sometimes find it difficult to verbalise their inner feelings, emotions and fears let alone have those in positions of care be alerted to signs of issue and distress. A study in the United States found that 1 out of 7 children in the United States suffer from MBDD (mental, behavioral and developmental disorders) and only 20 percent of them are diagnosed and given help and support. In parrallel we see parents today unable to spend as much quality time as they would like with their children due to work pressures. This lessens the social interaction parents have with their children thus sometimes meaning parents miss issues that their children are going through.
Project Introduction
Kids love to draw, quite often their drawings can reveal a lot about their inner world and about the emotional experiences that can be difficult to otherwise detect. A single drawing can provide a wealth of information about the child's current emotional state, social skills, mental development and so much more. As a parent, healthcare provider, educational facility or child services authority it is not always easy to know what's going on in the mind of a child. Many children are hesitant to verbalize their feelings in large part due to a limited vocabulary, this is especially true when it comes to more serious issues such as depression, distress, anger or even trauma. Using this project's application, parents and care providers can gain tremendous insight into a child's development and emotional state, simply by encouraging the child to draw.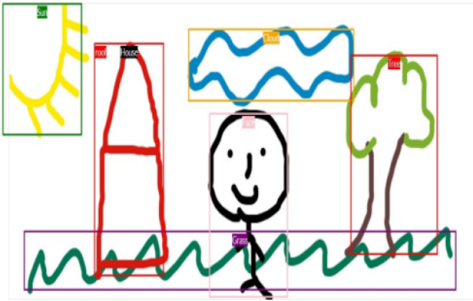 This project is the first-ever project designed to allow for an effective and accurate psychological analysis of children's drawings using a touch screen interface or scanned paper drawings. Its unique and patent pending algorithms and AI technology is based on extensive psychological and academic research which enables the interpretation of drawings that children create. It takes two minutes for the next three steps:
Simply ask the child to draw picture on an A4 blank paper.
Scan the drawing using smartphone or any other device, and upload the drawing to the this project's website.
Receive detection.

Core Advantages
This projects allows parents to access art therapy healthcare at a minimal cost compared to professional treatment which averages $95 per hour with effective diagnosis being made across 15 individual sessions. Besides, this project's software is easy to use, and can provide continuous tracking.
Market Size
This project addresses two main markets - Digital health and Education application. The medical health market is expected to reach €550B by 2020 and in parrallel this project should see the global education market reach €30B.
Team Member
Ben, CEO & Founder
Experienced in sales in Israel and abroad and in managing employees, an Inventor of a global innovation network.
Niv,CTO & Founder
With over 7 years of experience in developing and managing systems. Niv was a team leader of six developers. Experienced in designing architectures from scratch and in a variety of technologies such as AI and deep-learning. Graduate of Computer Science.
Prof. Rachel
Prof. Rachel, Ph.D, is a professor and the director at the University of Haifa, Israel. She has published more than one hundred scientific articles as well as six books on issues such as the use of drawings for diagnostic and therapeutic purposes, long term effects of the Holocaust, intergenerational transmission of trauma, and child sexual abuse. Prof. Rachel is an experienced therapist.
Project Need
Looking for financing in China to support the further research and development.