This project designs and manufactures a variety of custom-made processing plants for facilities ranging in scale from small dairy farms to large cooperative dairy plants. In addition, It also offers a variety of packaging machinery. Each component of its system is designed to meet the demanding requirements of a global customer list and is designed to provide a full range of services to customers, bringing customers fast project completion and trouble-free production.
Market Background
With the improvement of living standards has brought people's awareness of consumption of high nutritional value foods and beverages, and China's dairy industry has experienced rapid growth. The consumption of high-nutrition value beverages has led to a significant increase in demand for dairy and beverage packaging machinery. China's total demand for dairy and beverage packaging machinery is expected to grow at a compound annual growth rate of 11.74% in 2001-2021. It is estimated that the total demand for dairy and beverage packaging machinery in China will reach 11.5 billion yuan in 2021.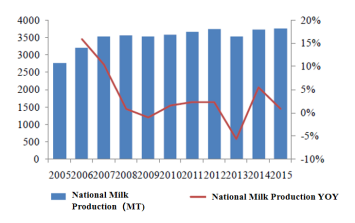 Project Introduction
This project designs and manufactures High Technology Production Lines as well as Stand-Alone Equipment for various scale processing plants in the Dairy, Food and Beverages industries. Each and every component is designed to meet with the demanding requirements of a worldwide customer list.
Dairy Production Line
Fresh milk, milk powder, and skimmed milk can all be processed on this project's mini-dairy lines, which are designed to transform raw materials into products such as pasteurized milk, yogurt, cream, sour cream, cottage cheese, and butter. The lines are fully equipped with everything needed for a full production cycle, including equipment for receiving and cooling milk, pasteurization, separation, fermentation, and packing finished products. The lines also include all necessary auxiliary units and equipment such as pumps, filters, pipes and valves, and communication and interface components.
Beverage Production Line
This project also offers a wide range of Automatic Lines for Manufacturing and Packing of Beverages such as: Natural Juices, Nectars and Drinks both from Fresh Fruit or Concentrates. It can also offer Processing of Fresh Fruit and Vegetables with release of Jam, Mashed Potatoes and various other products. Be equipped with automatic machinery for packing of the ready products in modern and attractive types of packaging such as: Doy-Pack Stand-Up Pouches, Plastic Bottles and Aseptic Bag-in-Box. And its Heat Treatment and Packaging System of enables one to receive pure products in addition to flavouring qualities, vitamins and aroma that remains for a long period of time.
This project also makes canning lines.
Core advantage
High productivity
Able to meet the needs of every customer
A diary production line covering all popular dairy products
The production line is equipped with all the necessities of a complete production cycle
Team members
Alon , Sales & Marketing Manager
Have successfully established more the 25 Dairies in the past 5 year from Russia, Colombia, Ethiopia, Sri-Lanka, Ukraine, South-Africa, Kenya, Kazakhstan, Mexico and many more.
Rachel, Account Executive
An expert in recognizing different work and project methods for optimal function. Responsible for the project's worldwide International contacts.
Project Need
Seeking cooperation or representation with individual(s) whom have dairy farming interests.