Project Introduction
In terms of insect protein products production, this project has optimized the grasshoppers breeding methods and technologies, and successfully achieved large-scale growing as well as the first commercial grasshoppers farm establishing. This achievement has enabled this project to produce healthier and more affordable insect protein powders and other products sustainably, which reforms the protein ingredient industry.
Grasshoppers are difficult to cultivate at scale due to their lengthy incubation period and seasonal breeding. Many of the cricket farmers in the US tried to grow grasshoppers but failed because they were unable to speed up the insects' natural cycle. After analyzing different factors' influence on grasshoppers, this project has developed a innovative technology manipulating temperature, humidity, light, ventilation and "more factors" to a optimum condition. Thus, this project can grow and harvest large quantities of grasshoppers in captivity quickly, efficiently, and under sanitary conditions. The result is a reliable, sustainable, and high-quality protein source. And in farms thst using this technology, the incubation time has shortened for eggs from 40 weeks to 2-4 weeks.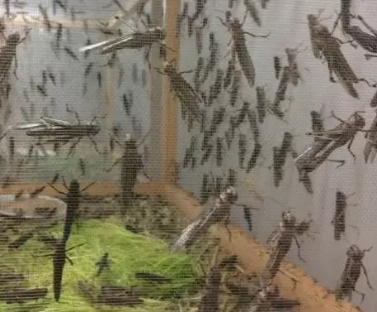 Project Advantages
• Year-round production - as opposed to seasonal harvesting in the wild - for a continuous supply; able to meet growing demand.
• Effectively reduced egg incubation period – increases annual cycles from 1 to 10
• Superior nutrient content - Up to 70% protein, all essential Amino Acids, Omega-3, Omega-6, Iron, Zinc, Folic Acid, Chitin
• Innovative cage structure for vertical farming - enables growing X10 more biomass per m² with improved sanitary conditions
• Optimized feeding - reduces growing costs, improves nutrient content
• Zero waste - all materials converted into product
• Efficient growth & production methods - reduces resources, increases margins
• Neutral taste/flavor & minimal processing
Market Strategy
Grasshoppers are the world's most popular edible insect. Consumed and considered a delicacy by more than one billion people around the world, grasshoppers enjoy high market demand and prices.
The U.S. protein ingredient market exceeds $35 billion (Nutrition Business Journal). By 2054, alternative protein will comprise 33% of the total protein market, with 50% from insects, algae, and bioengineered proteins (Lux Research). The edible insect business in Europe is projected to reach $380 million in 2020 (New Nutrition Business).
This project is the first company that selling protein powders from grasshoppers grown in its farms in Israel to health food manufactures in North America. Future products will include food additives, nutritional supplements and pet food. This project is engaged with distributors and strategic partnerships/food producers to expand its footprint through the sale of its protein powders in the health food, nutritional supplements and pet food markets.
Team Members
Dror, CEO
Over 25 years' experience in strategic planning, marketing and finance management; founder of numerous companies including several in the food/nutrition industries.
Chanan, CTO
Over 30 years' experience in growing and breeding insects and livestock.
Ben, COO
Over 16 years' experience in strategic operations management; serial entrepreneur.