Market Background
Atopic dermatitis (AD), also known as atopic eczema, is a type of inflammation of the skin (dermatitis). It results in itchy, red, swollen, and cracked skin. Clear fluid may come from the affected areas, which often thicken over time.While the condition may occur at any age, it typically starts in childhood with changing severity over the years. 30% of Children in big cities of China have Atopic Dermatitis. In the world, its one out five children is suffering from Atopic. Since the disease has strong itching, half of kids wake up at night just to scratch, so they cannot sleep. The global market of treatment of Atopic Dermatitis is estimated to reach $180 billion by 2025.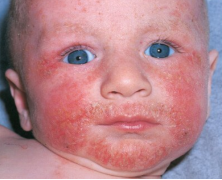 Project Introduction
So far, there are many treatments on the market. And the two main ones are steroids, which is effective and cheap, but only good for short term and in long term they cause damage to the skin. And there are other from Eucrisa , which is more expensive, about $600/$700 a month. In short, current solutions are too expensive or and they have lots of side effects.
This project developed a natural solution to reduce inflammation in this skin disease from natural ingredient Avocado seed. By using the biological waste from the food industry, avocado seed, and its own patented technology to extract active ingredient and put it to the location to reduce inflammation in the skin. It's natural and friendly, and it has less side effects. It is used as a steroid alternative. Its products has been demonstrated the following in pre-clinical and clinical studies:
• Repairment of DNA and mitochondrial damages
• Reduction in the activity of inflammatory mediators related to Psoriasis and Atopic Dermatitis
• Reduction in cell death by 75%
• Recovery of damaged cells by 90%
• Reduction of induced inflammatory enzyme Phospholipase A2 (PLA2) by 70%
• Reduction of skin redness (Erythema) by 50%-70% within 24-48 hours
Market Size
Cosmetics
There is high demand for unique, natural & sustainable ingredients with proven results of biological activity. Ingredients for Anti-Aging, Anti Inflammation & Anti-Pollution
Market size in 2016: $24 Billion, expected to reach $28 Billion by 2021.
Healthcare
Existing solution for Psoriasis & Atopic Dermatitis is based on steroids treatment. There is high demand for solutions that are more natural with less side effects.
Global Psoriasis treatment market – Estimated to reach $13 Billion by 2025 (~$8B in 2016) with approx. 125M patients
Atopic Dermatitis treatment market – Estimated to reach $178 Billion by 20256 with CAGR of 14% over the next decade
Team Member
Sagi, CEO
Led a revenue stage medical device company during the last 5 years. Mechanical Engineer (TAU) & MBA (IDC).
Tammy, PhD, CSO
PhD in chemistry, biochemistry & food science from the Hebrew University. Over 20 years of experience in R&D projects (food, pharma, medical device).
Sharon, PhD, Formulation R&D
An expert in the field of herbal research and product development. PhD in Biochemistry and Cell Biology.
Alain, PhD, SAB Member
40 years of experience as an R&D executive, Former VP R&D for J&J, VP R&D for Yves Rocher, VP R&D for Revlon.
Dr. Nava, External Consultant
30 years of experience in dermal products (Pharma & Cosmetics). Dr. Of Pharmacy.
Project Need
1. This project is aiming to raise $0.5M to finish the lotion R&D including clinical trial, CE & FDA.
2. It has already sold some products in China. Looking for partners to achieve product commercialization.