Recent years, percutaneous coronary intervention has developed from ball plastic surgery to current ercutaneous coronary interventionat a fantastic speed. According to PCI statistics released by National Health and Family Planning Commission of PRC, Interventional therapy cases in 2016 increased rapidly. And there were about 666495 percutaneous coronary intervention cases in mainland China.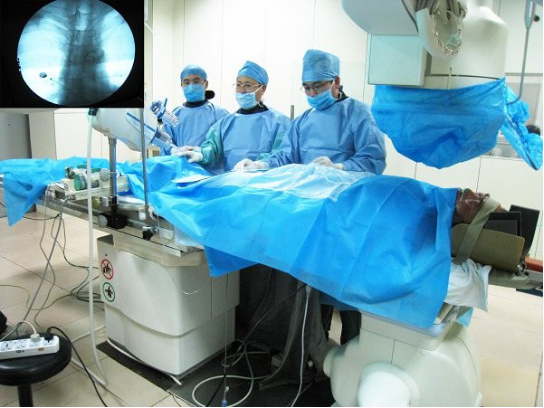 Fractional flow reserve (FFR) is an index of the severity of a coronary stenosis blockage.
Measuring FFR involves determining the ratio between the maximum achievable blood flow in a diseased coronary artery and the theoretical maximum flow in a normal coronary artery. Over the past decade, FFR measurement has been increasingly used in cardiac catheterization laboratories. It provides the physician a quantitative assessment of the functional severity of a coronary artery stenosis, reducing the number of unnecessary and fatal stenting procedures.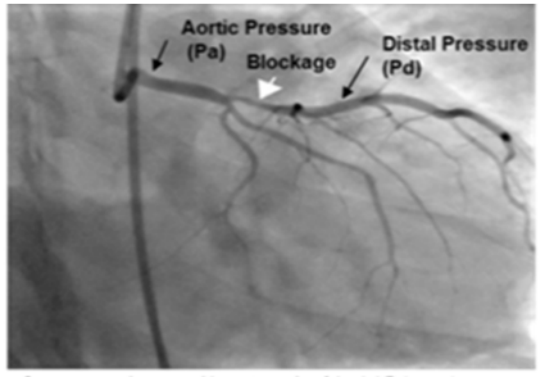 Coronary angiogram with a stenosis of the LAD(arrow)
Currently available FFR technologies suffer from technology faults
Currently available FFR technologies are Pressure Wire Technology, Micro-Catheter Technology and Optical Fiber Technology, but they suffer from significant faults.
High price ($500 to $1000 per unit), also need for capital equipment prohibitive to be used widely
Low 'Signal-to Noise' Ratio - low accuracy, poor stability, high drift Poor guide-wire characteristics (e.g. steerability and support)
cannot be used as guide-wires
The above shortcomings prevent them from becoming standard of care and widely used.
Pressure Wire Technology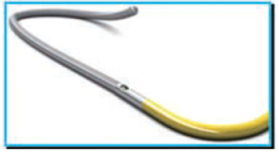 Micro-Catheter Technology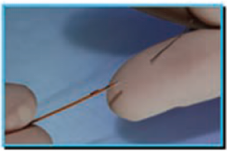 Optical Fiber Technology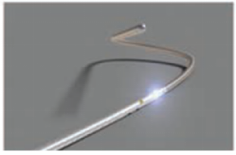 Innovative FFR Tool
Typically, CTOs are blockages that presents for more than three months. These blockages caused by severe build-up of fatty deposits or plaque within the arteries (atherosclerosis). A complete blockage of coronary artery occurs in 1 out of 5 patients going into a cardiac catheterization. The success rate of artery recanalization of complete blockages in everyday practice is only 30-35%.
An Israeli innovative medical device company has put forward a solution to support interventional cardiologists in crossing the most complex lesions. The unique point of this solution lies in that it can not only measure FFR value but serve as guide-wire for CTO surgery.

This company's FFR Guide Wire hydraulically transmits the pressure signal from the artery to its sensor. The FFR Guide Wire is manipulated and controlled by an integrated ergonomic removable handle that operated wirelessly. The handle could be reattached to the wire. Removing the handle turns the FFR wire into a standard 0.014" guide wire that can deliver a standard balloon catheter with (or without) stent to perform a stenting procedure of lesion. The FFR value is displayed on a low cost standalone monitor or it could be integrated to other Cath Lab display systems.

FFF Guide Wire Advantages:
Accurate with low production costs
Functions & Properties of standard 'workhorse' guide wires
Fully integrated with the PCI catheterization procedures
No capital equipment
FFR Market Size
According to an authority research, 2017 Worldwide Revenues of pressure guide wires are over $500 Million. And by the end of 2024, its Compound Annual Growth Rate of revenue will exceed 10%. That is to say, the 2024 estimated global revenue will be $1 billion while present selling price of FFR pressure wires: $500 to $1,000 / unit.
The usage of FFR guide-wire in PCI, Transcatheter Aortic Valve Implantation (TAVI) and other interventional therapy as well as diagnosis is continually growth. What's more, FFR guide wire will also be applied into new indications and segment markets including peripheral vascular surgery.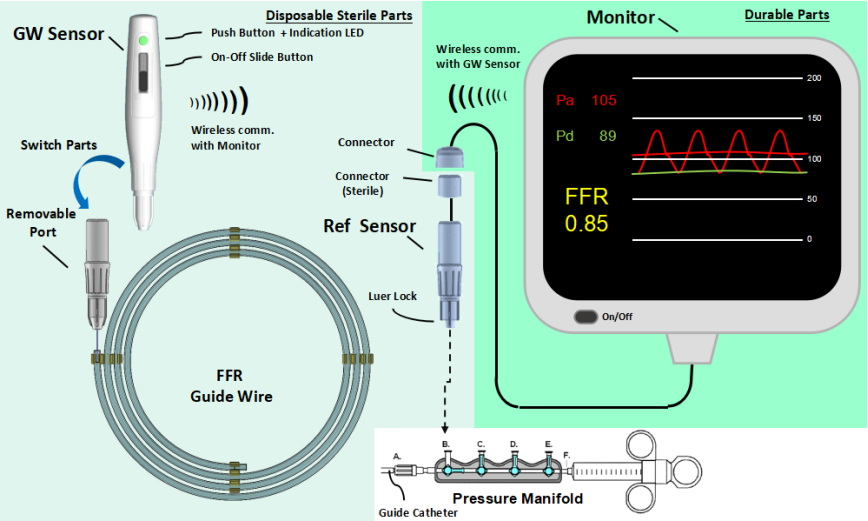 FFF Guide Wire Advantages:
Accurate with low production costs
Functions & Properties of standard 'workhorse' guide wires
Fully integrated with the PCI catheterization procedures
No capital equipment
Team Member
Haim Danenberg, MDInterventional Cardiologist,
Director of Interventional Cardiology. Hadassah Hebrew University Medical Center, Jerusalem, Israel
Bradley H. Strauss, MD, PhD, FRCP(C)
Cardiovascular Sciences Sunnybrook Health Sciences Centre Professor of Medicine/Lab Medicine and Pathobiology University of Toronto, Canada
Project Needs
This company is going to raise $2 million in China. It will carry out first human trial in next two years and penetrate in Chinese market. What's more, this company would like to have Chinese strategic partners or Chinese investors to introduce this technology into Chinese market.